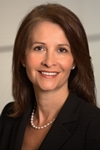 Annabelle Bexiga
EVP and CIO
TIAA-CREF
Symposium Roles
Speaker/Panelist 2013

Panels Participated in
Bio
Annabelle Bexiga is Executive Vice President and Chief Information Officer at TIAA-CREF, providing vision and innovation leadership for its technology strategy, architecture, initiatives, and solutions.
As CIO, Ms. Bexiga is responsible for directing technology programs and operations for all of TIAA-CREF's business lines and support functions. Under her leadership, TIAA-CREF embarked on a multi-year, multi-million dollar IT Transformation Program that has improved its technology infrastructure, services, and web experience. The program has strengthened and enhanced systems performance and platform scalability for business growth, which allows TIAA-CREF to deliver new innovative business solutions and client capabilities.
Ms. Bexiga has over 25 years of experience in technology, operations, and business management, predominantly in the financial services industry. Prior to joining TIAA-CREF in July 2010, Ms. Bexiga was CIO for Bain Capital, LLC and its affiliates based in Boston, where she was responsible for setting and executing IT strategy across a global organization. Prior to Bain Capital, she was a Managing Director at JPMorgan where she held numerous executive positions during her 11 year tenure, including COO for Asia Pacific Foreign Exchange based in Singapore, Head of Technology for Investment Management Asia based in Tokyo, and CIO for JPMorgan Invest and Retirement Plan Services based in New York. Ms. Bexiga has also held IT leadership roles at Lehman Brothers and Deutsche Bank.
Ms. Bexiga holds an M.B.A. from Rutgers University Business School, which she earned while on assignment in Singapore, a B.S. in Computer Science from Seton Hall University, and a Professional Coach Certification from the Hudson Institute of Santa Barbara. She is a member of Beta Gamma Sigma.
Press Coverage