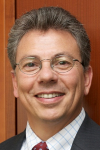 Anthony Gazikas
CIO
Haemonetics Corporation
Symposium Roles
Speaker/Panelist 2013

Panels Participated in
Bio
Mr. Gazikas is a passionate IT leader with over 30 years of years of combined career experience managing and engineering information technology solutions for global companies. Mr. Gazikas is the CIO of Haemonetics Corporation leading the delivery of corporate information systems and IT infrastructure.
Previously he worked for Dun & Bradstreet as the Chief Technology Officer responsible for the delivery of D&B's state of the art Web Services product offerings. Prior to D&B he worked at Pfizer progressing through increased levels of responsibility with his last assignment serving as Vice President of the $500M Global Infrastructure team and Chief Technology Officer. Formerly he served as Vice President of IT Architecture and Engineering where he developed a shared services team that engineered scalable global solutions and support services. Previously as Vice President of Development Informatics he led the development of solutions that enable the safe testing of investigational new drugs in humans. As an innovator he developed Pfizer's electronic submissions capability leading an international team in delivering the first fully electronic submission of an investigational new drug to the United States Food and Drug Administration (FDA). During his time at Pfizer he was a founding Board of Directors member for the pharmaceutical digital signature standards group (SAFE-BioPharma Association).
Prior to joining Pfizer Mr. Gazikas held engineering and IT leadership positions for Northeast Utilities (NU) nuclear power division. There he managed information technology projects delivering solutions for business intelligence applications and was project manager for 4 nuclear power plant high speed real time data acquisition systems and physical plant design changes.
Mr. Gazikas holds a B.S. degree in Mechanical Engineering from The University of Connecticut. He is a two (2) time winner of the CIO Enterprise Value Award (2000 & 2004) and a recipient of Pfizer's prestigious Research Achievement Award (1998).
Press Coverage