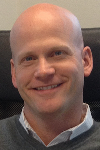 Chris Kuntz
Sr. Director of Business Development, Thingworx
PTC
Symposium Roles
Speaker/Panelist 2014

Panels Participated in
Bio
Chris is the Sr. Director of Business Development for ThingWorx, a PTC Business. Chris has over 18 years experience in solution delivery, marketing, and business development within high tech and software organizations, including large scale enterprises and technology start-up companies. In the past three years as Director of Marketing for ThingWorx, Chris led marketing activities including corporate branding, positioning, demand generation, influencer relations, and sales enablement. Today, ThingWorx's award winning platform has been recognized by leading industry analysts and experts as the top Internet of Things platform on the market today. ThingWorx was acquired by PTC in December 2013.
In his current role as Sr. Director of Business Development, Chris is responsible for leading the strategy and direction for the ThingWorx Marketplace Partner Program, which includes development of the ThingWorx Marketplace and management of ongoing interactions with the ThingWorx partner ecosystem community.
Prior to ThingWorx, Chris was the Vice President of Business Development for Palantiri Systems, an early-stage Internet of Things startup (acquired by ThingWorx in 2011). Earlier in his career, Chris held leadership positions in Business Development, Marketing, and Delivery at large scale IT consulting firms and software companies.