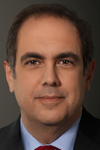 Chris Perretta
EVP & CIO
State Street
Symposium Roles
CIO Award Winner 2012

Panels Participated in
Bio
Christopher (Chris) Perretta is executive vice president and chief information officer (CIO). He has global responsibility for all of State Street's information technology activities; leading a team of over 5,000 employees and contractors supporting operations in 27 countries covering all major investment centers. In particular, he oversees the IT strategic planning process, application development and maintenance, system architecture, global technology infrastructure and information security for the firm. In addition, Mr. Perretta co-leads the company's Operations and Information Technology Transformation Program.

Prior to joining State Street, Mr. Perretta was the chief information officer for General Electric Commercial Finance. Previous to this he served as CIO for the North American Consumer Financial Services unit and chief technology officer for GE Capital. Prior to his tenure at General Electric, he was an associate partner at Andersen Consulting (now Accenture), where he dealt in both the industrial and financial services practice areas. He also spent more than five years leading the development of various technology initiatives in Europe.

Mr. Perretta holds a bachelor's and master's degree in electrical engineering from Johns Hopkins University and Syracuse University, respectively.

"Technology's central role in our business continues to grow exponentially, so its sound and innovative use is a strategic imperative. I am very proud that such a respected program has recognized State Street for building a culture of constant innovation into our IT operating model."