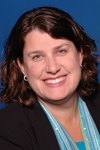 Cynthia Nustad
EVP & CIO
Health Management Systems
Symposium Roles
CIO Award Finalist 2013
Speaker/Panelist 2013
CIO Award Judge 2014

Panels Participated in
Bio
Cynthia Nustad has served as the HMS Executive Vice President and Chief Information Officer since February 2011. She and her teams have been nationally recognized for key personal, team and company contributions. Ms. Nustad has over 17 years of management experience in the healthcare information technology industry. From January 2005 to January 2011, Ms. Nustad served as Vice President — Architecture & Technology for Regence (Blue Cross Blue Shield), where she was responsible for servicing a large corporation across multiple sites and states.
Prior to Regence, Ms. Nustad served as the Vice President Product Management for OAO Healthcare Solutions, Inc. During her tenure at OAO, Ms. Nustad managed, from inception to commercialization, the strategic development of a flagship platform and database-independent managed care benefits and claims processing system designed for, among others, health care plans, self-insured employer groups and government agencies. Prior to OAO Ms. Nustad she has also held technology leadership roles at e-MedSoft.com and WellPoint Health Networks. She brings extensive experience in technology and healthcare to HMS and she is an active industry speaker.
Cynthia holds a Bachelor of Arts from UCLA, a Master's in Public Health from UCLA and a MBA from the University of Oregon.
"I'm honored to be a finalist for the prestigious MIT Sloan CIO award. IT is a team sport and I am thankful for the tireless efforts of our team. HMS is pleased to be recognized for our work in powering the healthcare system with integrity,"