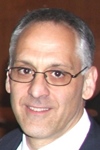 Frank Diana
Principal, Digital Enterprise Solutions
TCS
Symposium Roles
Speaker/Panelist 2013

Panels Participated in
Bio
Mr. Diana has 29 years of organizational leadership experience in technology and general management.
He is currently leading the business solutions organization for TCS Global Consulting. Prior to joining TCS,
Mr. Diana led an advanced analytics growth business for enherent Corp., and served as Chief Product
Officer for Aelera Corporation where he managed the development of a market facing social computing
and advanced analytics platform.
Mr. Diana served as CEO of Silicon Valley-based Traxian, Inc, a software start-up focused on the B2B
enablement of small and mid-sized businesses. As Chief Technology Officer of Fujitsu Consulting he
focused on software as a service and revenue strategies driven by emerging technologies. He began
his career at AT&T, holding various senior roles including CIO for the company's international financial
operation. Mr. Diana also sat on various industry steering committees focused on the development of
XML-based standards. He holds a Bachelor of Science degree in computer science from Rider College.