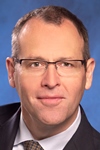 Graham Hughes, MD
Chief Medical Officer
SAS Center for Health Analytics and Insights
Symposium Roles
Speaker/Panelist 2013

Panels Participated in
Bio
Graham Hughes, MD, serves as chief medical officer on the CHAI Team. He joined SAS in 2011, bringing to the organization more than 20 years of experience in developing and delivering innovative health care information technology (IT) products and services.
Prior to joining SAS, Graham spent six years working as vice president of product strategy and chief medical informatics officer at GE Healthcare IT, leading a customer-facing advanced technologies innovation team, as well as spearheading the annual strategic planning process. He was the primary physician leader driving GE's knowledge platform strategy and associated products in collaboration with Intermountain Healthcare and Mayo Clinic.
Graham began his career with an undergraduate degree in developmental neurobiology from the University of London before going on to complete his medical training at Kings' College Hospital, London. After a number of years of practicing in internal medicine, Graham was recruited as a medical advisor by a large European IT company and subsequently led a number of IT initiatives, including the implementation of the world's first ever fully paperless electronic medical record.
His career has been characterized by a strong track record for defining, designing, and delivering software that addresses unmet needs of clinical users. He has deep expertise in terminology, knowledge representation, clinical decision support, data exchange, and patient portals.