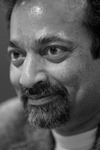 JP Rangaswami
Chief Scientist
salesforce.com
Symposium Roles
Speaker/Panelist 2013

Panels Participated in
Bio
JP Rangaswami is Chief Scientist at salesforce.com, having joined them in October 2010. As Chief Scientist at salesforce.com, Rangaswami focuses on helping salesforce.com's European customers think about innovative ways to use the real-time, mobile and social capabilities provided by Salesforce apps and the Force.com platform.
Originally an economist and financial journalist, he has spent the last 32 years working in information technology, primarily in the financial sector.
He was named CIO of the Year by Waters Magazine in 2003, CIO Innovator of the Year by the European Technology Forum in 2004, European Innovator of the Year by Innovate in 2005; in 2007 and 2008, he was listed in Silicon.com's Agenda Setters as one of technology's 50 most influential people; in 2009 and 2010, he made the Wired 100 and was ranked 18th in 2010.
He is a Fellow of the British Computer Society, a Fellow of the Royal Society of the Arts, and a Trustee of the Web Science Trust.
Prior to joining salesforce.com he served as Chief Scientist at BT plc (2006-10); before that he was global CIO at Dresdner Kleinwort Wasserstein, where he worked from 1997 to 2006. Prior to that, he worked at a number of leading multinational organisations, in the technology space.
JP is also a venture partner with Anthemis Group. He is Chairman of The School of Everything, a startup focused on bringing teachers and students in a disruptive way; he also chairs MetaCert, focused on Internet family safety; he is on the advisory board of Byte Night, a charity helping youth homeless, and serves on the management board of his local church, Kings Church International.
JP is a popular keynote speaker at conferences, specialising in the future of work, disruptive technologies and innovation, particularly with reference to the enterprise. his blog, confusedofcalcutta.com, is particularly popular with enterprise technologists; he tweets as @jobsworth. His TED talk "Information is food" has been viewed over 350,000 times. He also contributed a chapter to the 10th Anniversary edition of the best-selling Cluetrain Manifesto.