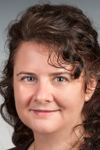 Kathleen Tetrault
Event Chair
MIT Sloan CIO Symposium
Symposium Roles
Chair of Event 2012, 2013
CIO Award Judge 2012,

Panels Participated in
Bio
A digital and classical marketing leader, Kathleen Tetrault currently heads Marketing, Research and Strategy for Vaya Mobile, a mobile web strategy company. She has 15+ years of experience in marketing and project management with major organizations including The Procter & Gamble Company and The Washington Post Company.
Prior to Vaya, her most recent role was Director of Marketing & Brand Strategy for Washington Post Digital, the Post's new media arm. She has also been Director of Marketing, Planning and Strategy for Borders Group, and a Brand Manager with The Procter & Gamble Company.
Kathleen is the founder of the Procter & Gamble Alumni Association of Washington DC and a past Board Member of the University of Virginia Alumni Club of Washington. She holds an MS from MIT Sloan, a Masters in Urban Planning from the University of Virginia and a BA in Economics from William Smith College.