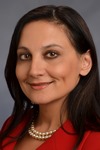 Mojgan Lefebvre
SVP & CIO
Liberty Mutual Global Speciality
Symposium Roles
Speaker/Panelist 2013

Panels Participated in
Bio
Mojgan Lefebvre is Senior Vice President and Chief Information Officer for Liberty Mutual Global Specialty. In this role she is a member of the executive committee, reporting to the President of Global Specialty.
Mojgan leads all aspects of technology planning and execution and is accountable for technology strategy, business capability delivery, application development and support.
Prior to assuming the role of Global Specialty CIO, Ms. Lefebvre was CIO for Liberty Mutual Commercial Markets, where she led the implementation of an award-winning claims analytics solution, and drove a technology roadmap that helped transform the company from a multi-market group to one Commercial Market unit.
Before joining Liberty Mutual in 2010, Ms. Lefebvre was Corporate CIO for bioMerieux, a global medical device company with business in over 100 countries. Prior to her roles in IT, she worked as a strategy consultant at Bain & Co.
Ms. Lefebvre holds a Bachelor of Science in Computer Science from Georgia Tech and an MBA from Harvard Business School. She was born in Iran and has lived in Russia, Israel, France and the US.