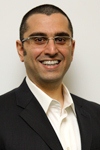 Vala Afshar
Chief Marketing Officer & Chief Customer Officer
Enterasys Networks
Symposium Roles
Speaker/Panelist 2013

Panels Participated in
Bio
Vala Afshar holds the new position of Chief Marketing Officer and Chief Customer Officer for Enterasys Networks. In this dynamic role, Afshar is responsible for global marketing of Enterasys, including brand awareness, demand generation, social media, PR, analyst relations, channel marketing and much more. In addition to leading global marketing, Afshar continues to excel in driving all global services and technical support functions for the company. In his 17 years at Enterasys, he and his support team have received numerous prestigious industry awards for outstanding support as well as service ratings that are unmatched in the industry.
Afshar is a recognized social media advocate, having been the keynote of several industry events including Salesforce's "Dreamforce 2012". His thought-leadership has been sought after by leading publications including Forbes, The Economist, ZDNet and many more. To his credit, Afshar was recently named by InformationWeek as one of the "Top 10 Social Business Leaders", Oct 2012 and recognized by Forbes as one of the "Industry Leaders Shaping CRM", Oct 2012. A was also named "2012 Top 50 Men in Technology on Twitter" by Blue Focus Marketing.
Afshar recently co-authored a book entitled "The Pursuit of Social Business." He earned a BS in Electrical Engineering from the University of Massachusetts.
Press Coverage